Howdy, hello and hi! Welcome to the tenth Nifty Newsletter, a community bulletin that highlights projects derived from the Blitmap collection and happenings in the Superverse. If this is your first time here, some background: almost a year ago, the Blitmap team of artists voted to put their IP in the public domain under the CC0 license. And since that time, we've seen a number of projects—both digital and physical—come to life! This edition highlights Mirakai, a pixel art project with a twist that was launched by a team that includes original Blitmap artist numo!
But before we get to the news on Mirakai, I got to give a big shout out to the folks who coordinated the Blitmap x Chain Runners party at NFT NYC 2022 this past month! While I wasn't in attendance, it looked like a fun time was had by all at VR World in New York City, where holders near and far were able to connect. I even heard that original Blitmap artist boyprison was spinning some tunes for everyone's enjoyment! Hope all y'all had a great time, and I hope to make the next one!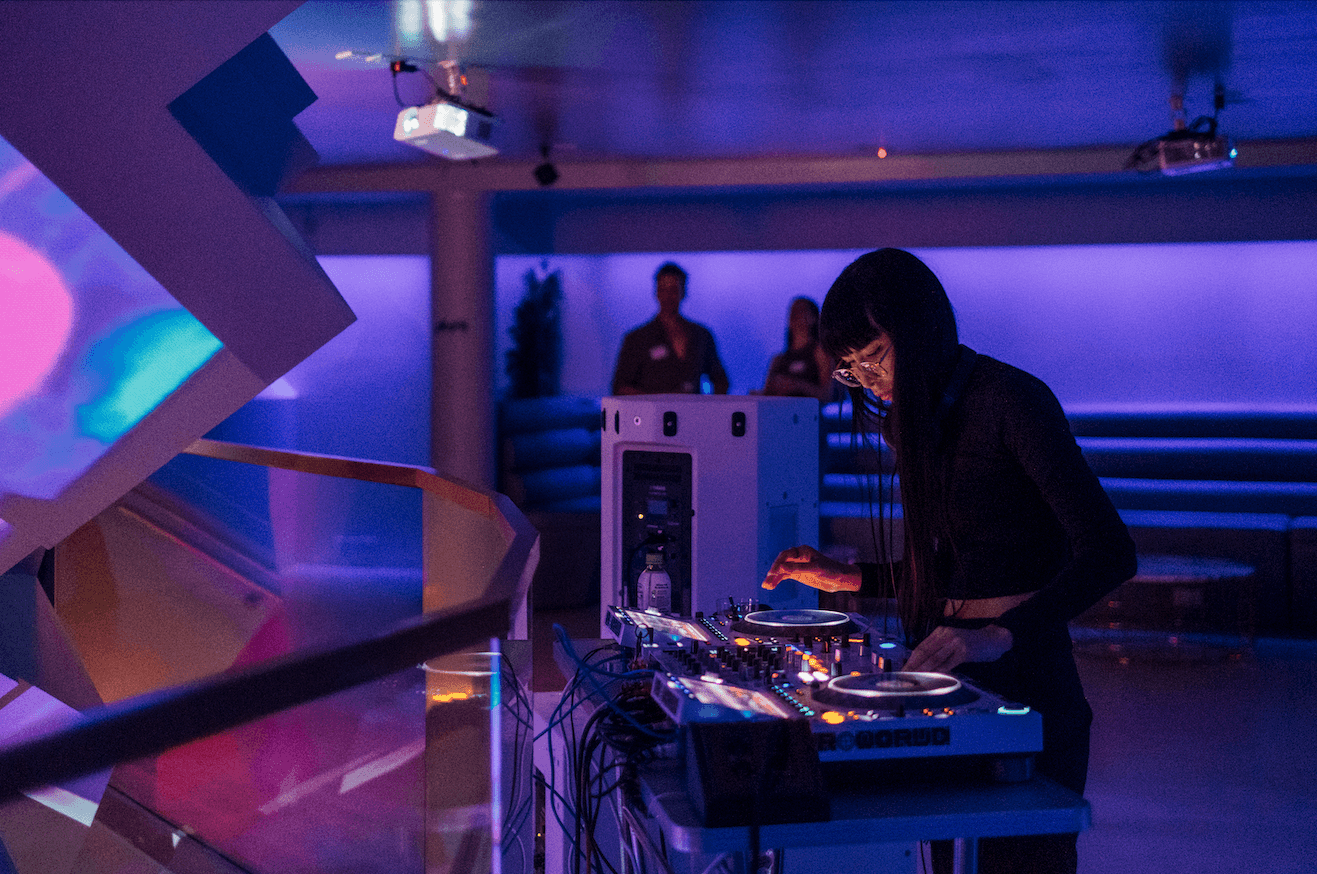 Another recent development in the Superverse is that Corruption(*s) Chapter 2 looks like it is just about to kick off, with some messages coming in across the ether. To provide a summary of this project is near impossible, but let me give it a try. After Dom Hofmann released 4,196 Corruption(*s) NFTs, a loosely networked group of holders formed to try to make sense of it all. Since that time, tooling was developed to communicate with the artist across the portal, and the community had to make decisions on what to do next as a singular player in a meta game. All the while, the NFT was gaining "insight" that could then be "deviated" from the string of characters into a different ASCII art NFT that no longer evolved.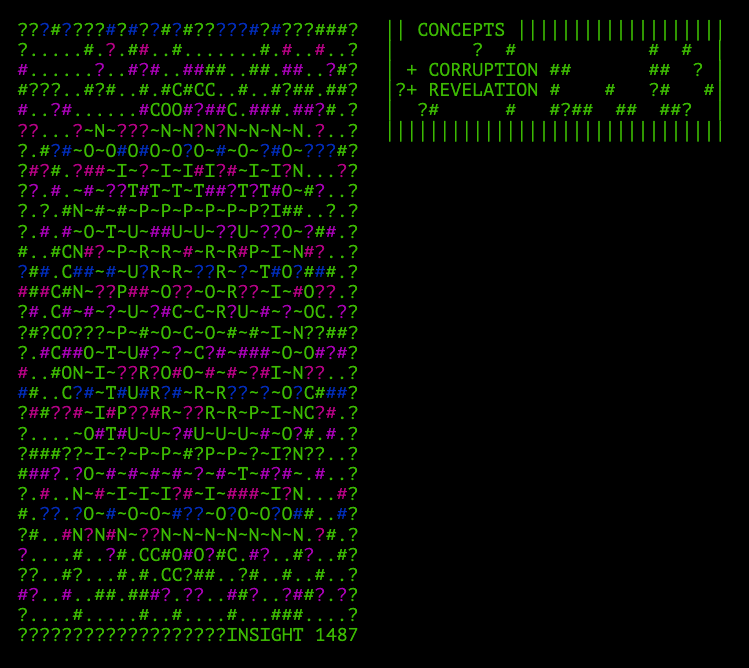 In the first Blitmap community call, Hofmann teased that at the beginning of Chapter 2, holders of Corruption(*s) NFTs would have the ability to vote on-chain on whether they would like this fictional universe to be nurtured by Sup, a company started by Hofmann and original Blitmap artist Totally. Whether or not you're a holder of Corruption(*s), this is one of the most exciting projects in the space—you can get up to speed by dropping in the Corruption(*s) Discord server and checking out the website now!
But before you do that, take a minute to learn more about Mirakai! I was super happy to catch up with Beans, co-founder and Solidity developer of the project, who provided a lot of insight into the project. Enjoy!
Building with Heart
Beans, Mirakai's co-founder, has been active in the crypto world since 2017, but it wasn't until last year that he participated in the NFT scene. At that time, ArtBlocks was on such an astronomical rise, along with the PFP projects du jour, that he started messing with NFTs purely as a flipper. However, after Beans got involved with the Chain Runners project, he began to see the technology through a different lens.
"Chain Runners was the first community where I spent a significant amount of my time in their Discord server," Beans recalls. "It was different because I wasn't solely in it for profit, but rather talking about how cool the tech was. The CC0 vibe was far different than other projects I encountered; everyone in the server was talking about pushing the space forward."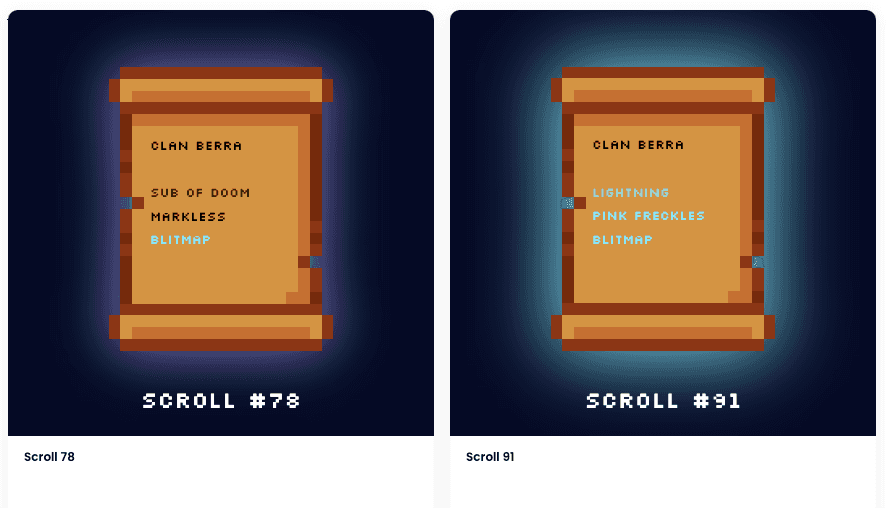 Beans began digging into the Chain Runners contract and was blown away by the amount of care that went into getting all the different traits layered properly and put on-chain. Out of love for the project, he published an article to Mirror that took a deep dive into the on-chain mechanics as an attempt to convey how much passion the Chain Runners team put into their project. The warm reception that followed his post helped Beans realize that CC0 communities are just built differently—he knew that if he ever created a project of his own, he would have to release it into the public domain. That is exactly what happened with Mirakai.
At its core, Mirakai is two separate projects—Mirakai Scrolls and Mirakai Heroes—and combines elements from the NFT and DeFi spaces, including deflationary mechanics, gacha elements, pre-reveal vibes and implicit rarity. The Scrolls are completely on-chain and feature ten unique traits that are listed out in simple text. This idea is a callback to Hofmann's Loot (for Adventurers) project. A person who holds a scroll has two options: (i) rerolling a specific trait (except for the Clan and CC0 traits) to get a more rare or aesthetically pleasing attribute, or (ii) burning the scroll to summon a pixel art hero once the holder likes the ten traits.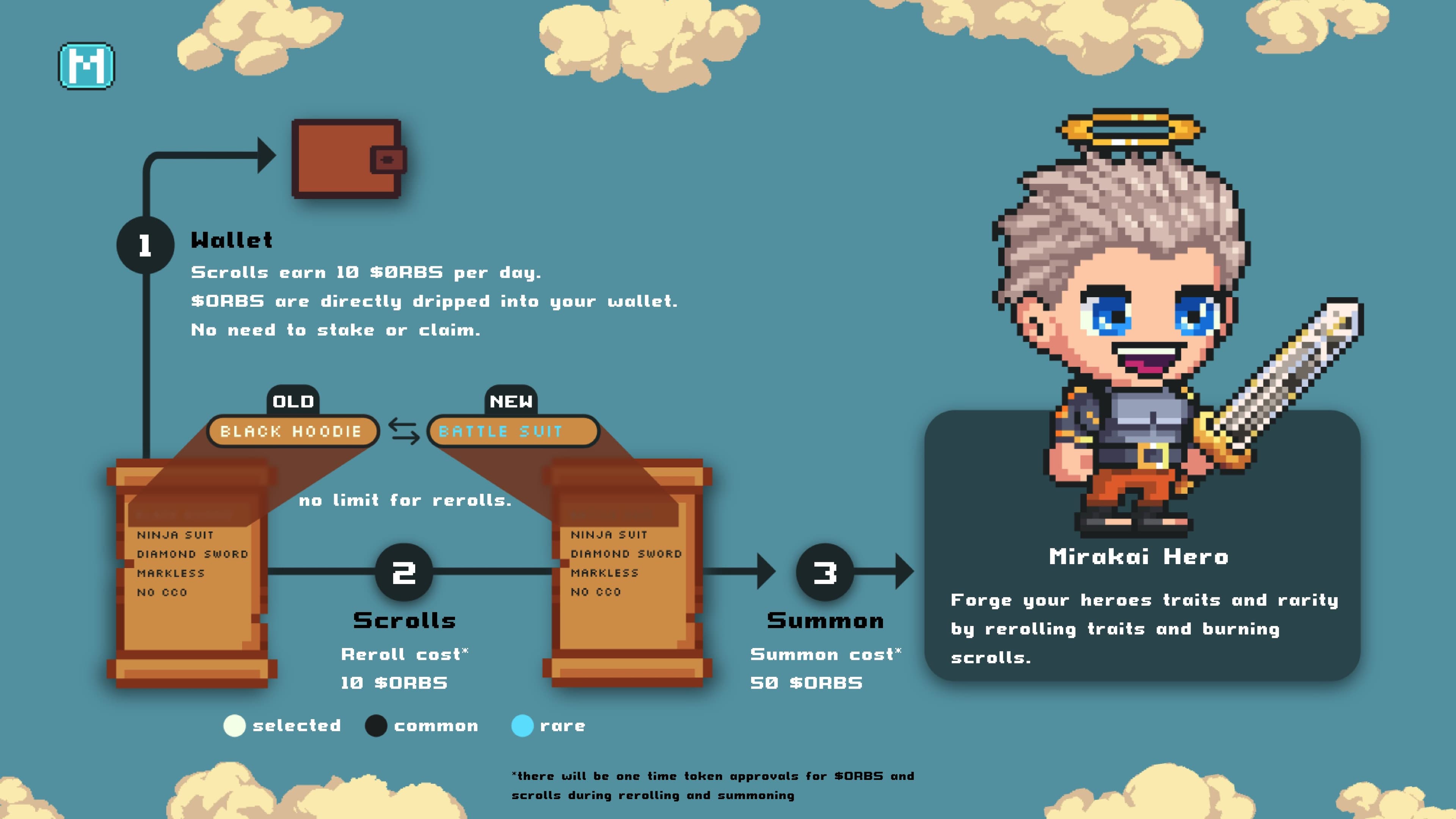 And while Mirakai is a pixel art PFP project, there is quite a bit of depth to it, starting with the name. Mirakai is a name coined by the team that was derived from the Greek word meraki, which can be loosely translated as doing something with absolute passion and soul. To Beans, the name represented the kind of heart and conviction he and his co-founders put into the project—it was monumentally important for this anonymous founder to build something exceptional.
"While I am an anon co-founder, I've put a lot of effort into developing my online reputation by doing Ethereum contract breakdowns on Twitter," Beans said. "The other co-founders, Ben (front-end developer), numo (artist) and water (artist), have also developed their anon personal brands. We've all worked hard in this space to get where we are, and we were not going to jeopardize that with a low-tier, low-effort project."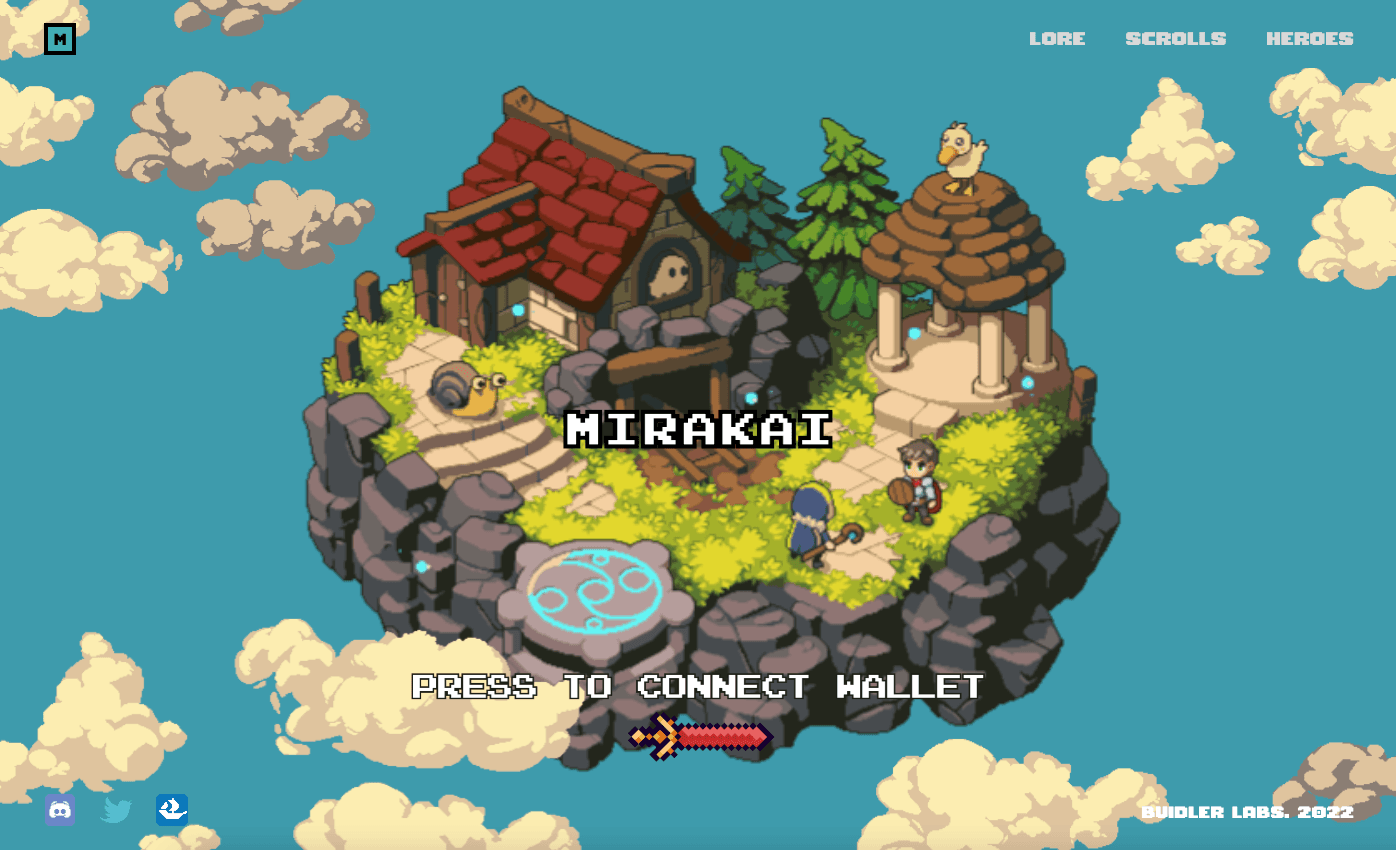 Instead, the team began working tirelessly on Mirakai for over six months, an undertaking that resulted in several unique project features that blended NFT and DeFi elements, including:
ERC20 Token Drip. This may be the most revolutionary aspect of Mirakai—essentially owners of a Mirakai Scroll get $ORBS automatically dripped to their wallet. There is no staking or gas fee on the holder's end; instead, the tokens just magically appear in the wallet! What the ERC721A implementation was to Azuki, the ERC20 Drip is to Mirakai, and Beans has open sourced the code on Github!
On-Chain Reroll of Traits. After acquiring a Mirakai Scroll, holders can reroll the traits associated with it via an on-chain action where 10 $ORBS are burned to get a new trait. While other projects may have afforded holders this option, this reroll is done completely on-chain.
Blend of On-Chain Data, Off-Line Rendering. While the Mirakai Scrolls are completely on-chain, the Mirakai Heroes (the pixel art characters that are generated when a scroll is burned) are rendered off-line. This is due to the complexity of over 20 different layers that goes into each hero! "Our head trait is not just one layer—they are actually composed of three different layers," Beans explains. "We did this so they would layer properly with the different kinds of weapons that each hero can have."
Outstanding Pixel Art. The work that the artists numo and water did for Mirakai is exceptional, and the amount of detail and crafting that went into each trait is mind-boggling. Seriously, take the time to browse the Heroes collection and you'll be blown away. Knowing that high-quality art was key to the success of the project, rather than paying the artists a flat fee for their work, Beans brought them both onto the core team.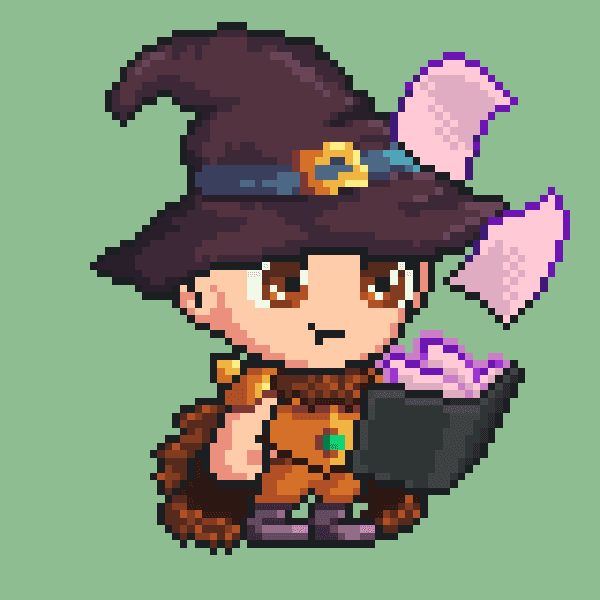 "With the quality of pixel art that we were looking for, I knew that this was going to be incredibly time-consuming work for numo and water," Beans notes. "We wanted to give them more skin in the game, more sense of ownership and responsibility. I've also seen how artists frequently get the short end of the stick—they do all this work and yes, they get paid, but if the project blows up they don't get to reap those rewards. This is very unfortunate because a key component of NFTs is the art. We wanted to make sure that our artists were rewarded properly."
This is the heart, the meraki, that Beans and team put into the project. And to honor the CC0 project, that had a major impact on the members of the team, such as Blitmap, Mirakai threw in an extra treat for those communities.
Amplifying the CC0 Universe
Projects in the public domain, like Blitmap, Chain Runners and Anonymice, inspired Beans because he felt there was something more to them than your average NFT project.
"CC0 projects are just more builder focused," explains Beans. "Those communities understand the potential of web3 and how it can revolutionize our approach to intellectual property. I knew that Mirakai had to have the CC0 license because that was the type of people I wanted to attract. And to say thank you to those folks in the CC0 communities that served as inspiration, we made it possible for people holding certain projects to 'roll' a special CC0 trait."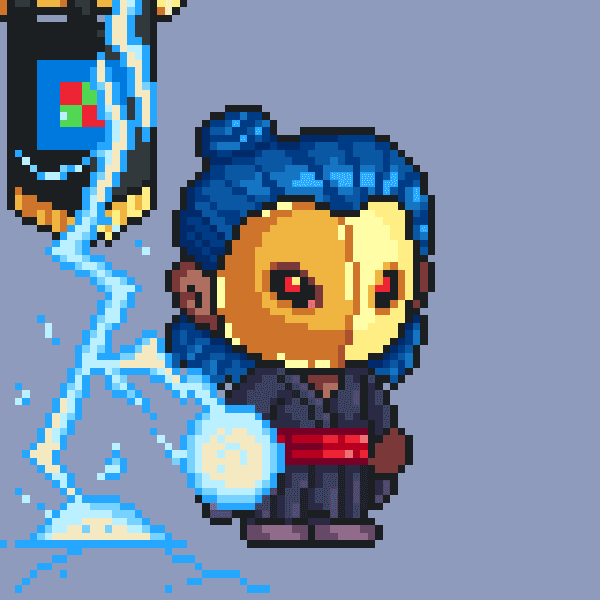 These traits included Nouns glasses, backgrounds from Chain Runners, a mouth from Cryptoadz and a nose from GoblinTown. While each of these traits is special, the Blitmap CC0 trait really takes the cake. Rather than being part of the hero, this trait adds an entirely new item on the left pane of the NFT!
So far we've seen the Drink Me and Mana potions summoned with a hero, along with a Hot Damn hotdog and mustard, banner with a Logo coat of arms and the Dom Rose enclosed in a glass case like the one in Beauty and the Beast. But there are a few more Blitmaps that have yet to be summoned, according to Beans.
"The Blitmaps were the hardest CC0 trait to incorporate into Mirakai. There were multiple times where we thought we should drop the trait, but obviously we couldn't because we love the Blitmaps," Beans says with joy in his voice. "When people think about Blitmap, the item that often comes to mind is the Dom Rose. We tried putting the rose in the hero's ear or mouth, but it kept clashing with the other traits. Then we realized that we could add it to the scene as an extra item, and we found that it seemed to elevate the composition."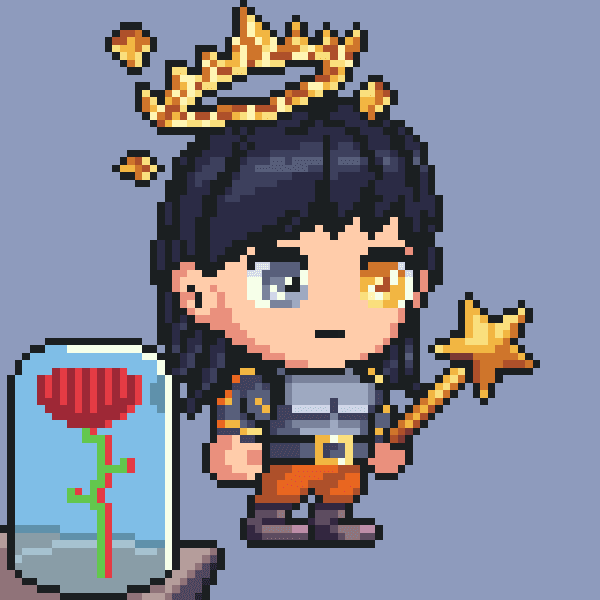 The Blitmap CC0 trait is in high demand. With little more than 50 of these scrolls in existence, they carry a huge premium over the floor Mirakai Scrolls. However, if you're a Blitmap-loving collector, there are several Blitmap-esque and inspired traits you can look for in other scrolls or reroll yourself, including:
Blit Amai Hat
Blit Sprout Head
Blitnaut Helmet
Teddy Hat
Blitmap Jess Mouth
Lost Realm Fur
The Mirakai team is not only amplifying the CC0 universe, but also contributing back to it. In addition to the ERC20 drip code being open-sourced to Github, the pixel art assets and layering mechanism will be put into the public domain. And while the traits are rendered off-line, the DNA for each trait is on-chain, meaning that another individual or community could use these assets in a novel way.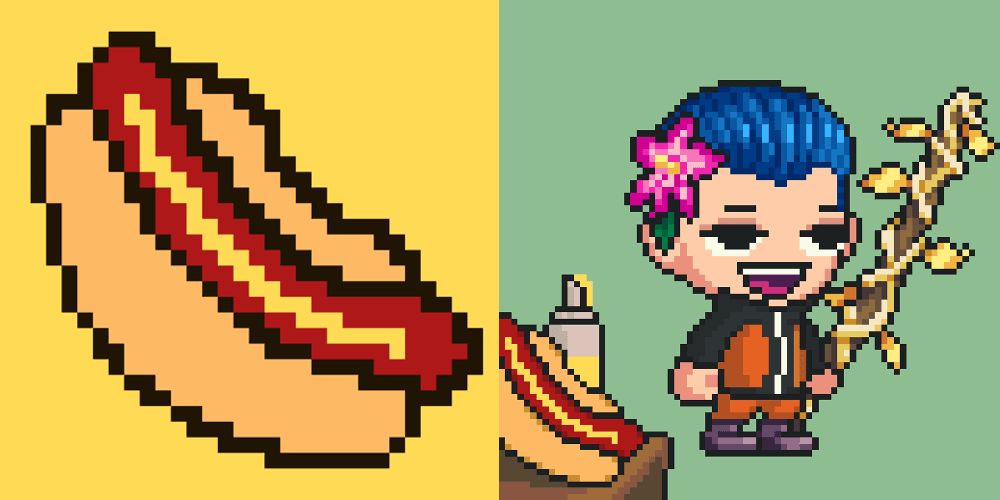 "As soon as Mirakai was released, it was instantly composable, where anyone can take my contracts, inherit from them and build on top of them," explains Beans. "That's the mantra of web3, to be open and composable, and with CC0 no one owns the rights to the intellectual property. This creates huge potential for what can be created in the future. But the bigger corporations are coming into the space and trying to close things down, tracking wallets and essentially bringing web2 into web3. I don't want that. I want web3 to continue to be built by the people, for the people, which is why all these public goods are crucial for the future of web3."
Nifty's Nook
What a great story, and big thanks to Beans for taking the time out of his schedule to chat! The story of Mirakai has been so refreshing to me, especially considering all the low-effort, cash-grab PFP projects that have become all too common. What really strikes me is how the Mirakai team could have easily released something during the PFP meta and made a stack of ETH, never to be seen again. Instead, they decided to do something more—something better—and push what could be done in this space forward.
I think that the automagical $ORBS token drip is particularly special. By automatically putting those tokens in a user's wallet, the friction of having to claim (especially when the blockchain is congested and the gas fee is exorbitant) goes away completely. My only wish is that they would have "capped" the number of $ORBS that can be in existence. To my untrained eye it seems like there is an unlimited amount of tokens that can be generated, which means that there is really no cutoff point (other than the gas cost) to re-rolling for the exact traits one is looking for in their hero. Regardless, it was a savvy innovation, and I'll be keen to see how other projects adopt it in the future!
NiftyPins is a member of the Blitmap community and a comms professional—you can find him frequently hanging out in the Blitmap Discord or on Twitter at @niftypins.