There's a lot to talk about in this fourth edition of the Nifty Newsletter, a community-run bulletin that highlights Blitmap-derivative projects and some of the recent happenings in the Blit universe. Leading off is the major announcement that Sup, a company co-founded by Dom Hofmann and Bigpapap, just received a $12M seed round led by Paradigm. The company's mission, Dom wrote in Discord, is "creating and nurturing open, community-driven (and hopefully important!) fictional universes."
Later, in the first Blitmap community call, Dom walked through how Sup will focus on world building, specifically with Blitmap. I'm absolutely stoked to see what happens! And from the looks of it, so are other folks: this past week saw Blitmaps and Blitnauts flying off the shelves as we welcomed a number of new folks to the Holders channel! What will happen? How will this universe unfold? When can we all gather for virtual drinks at the Frigate Tavern? I suppose we'll have to stay tuned, dear reader!
This newsletter highlights HyperLoot, a project that launches very soon that looks to bring the Lootverse together with other CC0 projects, including Blitmap. Ready to learn more? Let's dive in!
The HyperLoot Team
The HyperLoot team is a doxed group from Thailand composed of husband-and-wife developer duo Thanakron Tandavas and Herin Kim, along with renowned Thai artist Wanchana Intrasombat. Tandavas, a front-end engineer/UI designer, and Herin, a full-stack engineer, run a software development agency that has worked with startups and corporations in Silicon Valley, New York and the European Union. The duo has been involved with the NFT space since 2018 when they first purchased CryptoKitties and were part of the original Blitmap minting process, with Tandavas first minting Sasquatch Boombox (#357) and Herin minting Cool Cat Watcher (#360). Wanchana, known colloquially as Vic (short for his artist name Victorior), recently joined the Blitmap community by purchasing Mana Drink Me (#248).
The team first met in the early stages of the Thai NFT community, where they began fostering a young collective of artists and technologists. Vic had one of Thailand's first major NFT sales on Foundation, a piece entitled "To the Waterfall" that he sold for 1.888 Ethereum. This was the catalyst that really jumpstarted a lot of artists diving into the space.
"At first, people were asking why they had to pay a fee [gas] to be able to sell their piece," Herin explains. "But after Vic had one of Thailand's first major NFT sales on Foundation, artists quickly realized that NFTs worked. Because many of our Thai artists do not know English, language has always been a barrier. But this is no longer the case with NFTs, because now the artists can speak through their art."
Vic's sale was a watershed moment in the Thai NFT community—in a country where the minimum wage for a person is just $10/day, an artist clearing almost $6,000 on a single sale was massive. Soon, more young artists began joining the community, and the country at large became NFT obsessed.
"Coming from the physical art world, I typically would sell my art prints at Comic-Con for $10. I began to develop my skills in digital art, which at that time wasn't appreciated as much as physical prints," Vic says. "When I found out about NFT, I had to jump in. I was able to sell my first NFT for almost $6,000, which is the same art that I sold at $10. I realized that with blockchain and NFT technology, digital art can be valued."
Upon seeing the potential of NFTs, the trio came together to work on HyperLoot. Tandavas and Herin ceased working on web development client work altogether and are now focusing on this project full time.
What is HyperLoot?
To understand HyperLoot, you must first understand Loot (for Adventurers), a project Dom launched in late August 2021. The premise was simple: there were 8,000 total NFTs stored on-chain that featured white text on a black background. All Loot NFTs (known as "bags") were placed in the public domain, and Dom left the next steps up to the users, tweeting "no images or stats. intentionally omitted for others to interpret."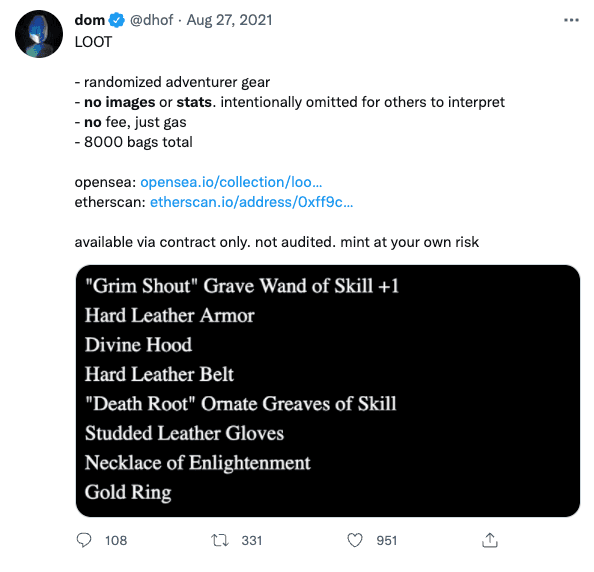 What happened next was a tsunami of Loot-derivative projects and interpretations, many of which were text-based interpretations of the project. This inspired the Thai-based team to create HyperLoot, an effort to allow people to visualize their Loot bags.
"One of the challenges that we have seen in the Loot ecosystem is that many projects do not focus on visualizing the items themselves because drawing all the different pieces and combinations is a lot of work for the artist," offers Tandavas.
This is where Vic comes in. Leaning on his 12 years of experience as an art director, concept artist and character designer—with project collaborations that include Illumination, Clash of Clans, Disney, and a Netflix film by Sony Pictures—he began to create all the variations of gear contained in the bags that would outfit a HyperLoot character. Having compelling imagery that tells the story visually solves another major challenge with Loot: the language barrier for non-English speakers.
"People who do not understand English may not really understand what is inside the Loot bag they hold," Tandavas notes. "For example, many non-native English speakers don't know what 'war hammer' or 'grimoire' even means. But if we can visualize those items, making them compelling and easy to understand, maybe we can reach more users and expand the Loot universe."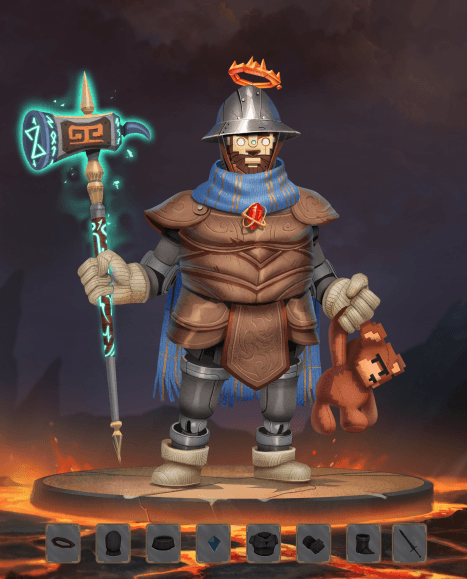 For the launch, there is a supply of 20,000 NFTs and people who hold either Loot, More Loot or a Genesis Adventurer will be able to mint one HyperLoot for each bag that they hold. And similar to the Blitmap minting process, the minter is granted a certain degree of agency in the creation of their NFT: they can choose a number of customizations for their HyperLoot character, with nods to Blitmap and other CC0 projects in the minting experience. In the image above, you can see two Blitmap references: numo's Teddy is in the left hand and the face of the HyperLoot character is Bigpapap's Totally composition.
"Blitmaps and Blitnauts took a really long time for users to mint what they liked, but after minting they felt connected to the piece on a deeper level because of the choices they made. We know that owners love their Loot bags, and many have reasons for not wanting to sell," says Herin.
Building a Composable, 3D-Gaming Platform for Devs
However, these 2D visualizations and this 20,000 piece NFT collection are just the beginning. The team has ambitious plans to model all the HyperLoot assets and figures in 3D visualizations that can be taken into the metaverse. Why? The team aims to develop an animation library and visualization layer that is accessible and licensed under CC0 and can be called on by developers for all Loot and MLoot bags to build games, animated films, experiences and more.
"We chose to double down on the idea of Loot and CC0. The NFT itself would be worthless if others were not building on top of it," says Tandavas. "And the more things that are built on top of Loot go on to give it more exposure. We view HyperLoot in the same way. If we are allowing other people to use our assets to build something else, we are happy to see HyperLoot succeed even if it is not something that we are directly building."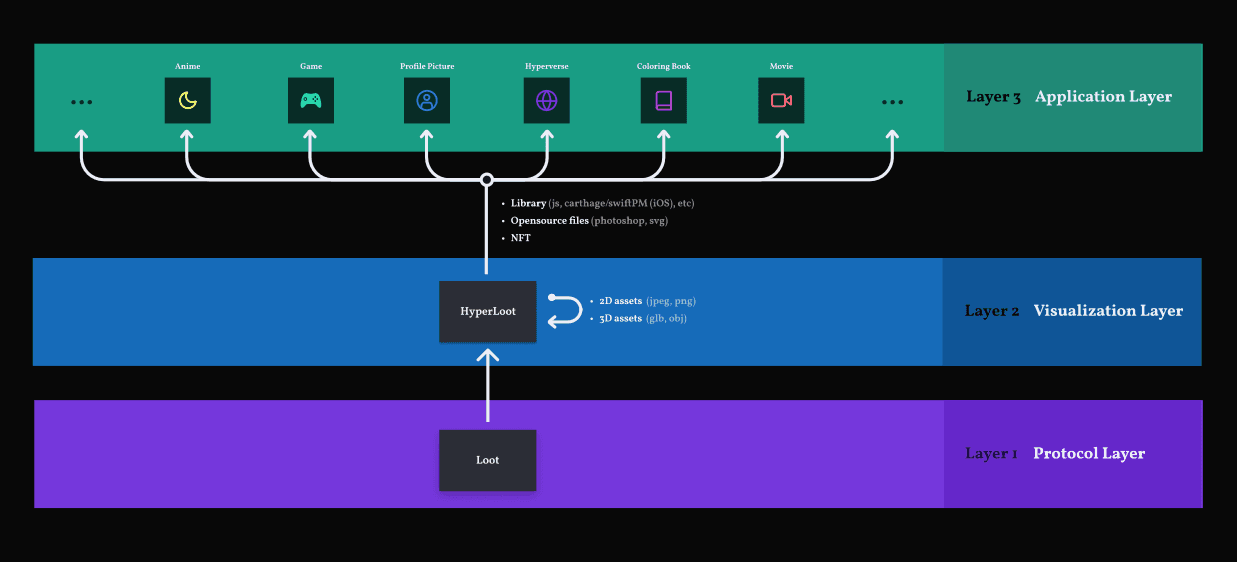 The CC0 license has made this notion of composability possible, granting the individual agency to do something creative with the assets.
"The Loot community has a lot of builders, but there are fewer artists. These builders have good ideas and are quick to build, but lack art assets for their projects," says Herin. "HyperLoot can provide high-quality assets that can help the community build more quickly."
This spirit of CC0 and the potential to bring in other characters from the public domain was on full display in HyperLoot's tease of a person-to-person combat game a la Smash Brothers. When they posted an image that not only featured a HyperLoot character, but also a Blitnaut, Cryptoadz and Nouns figures engaged in an epic battle, the Blitmap Holders channel and Twitter immediately erupted into a frenzy.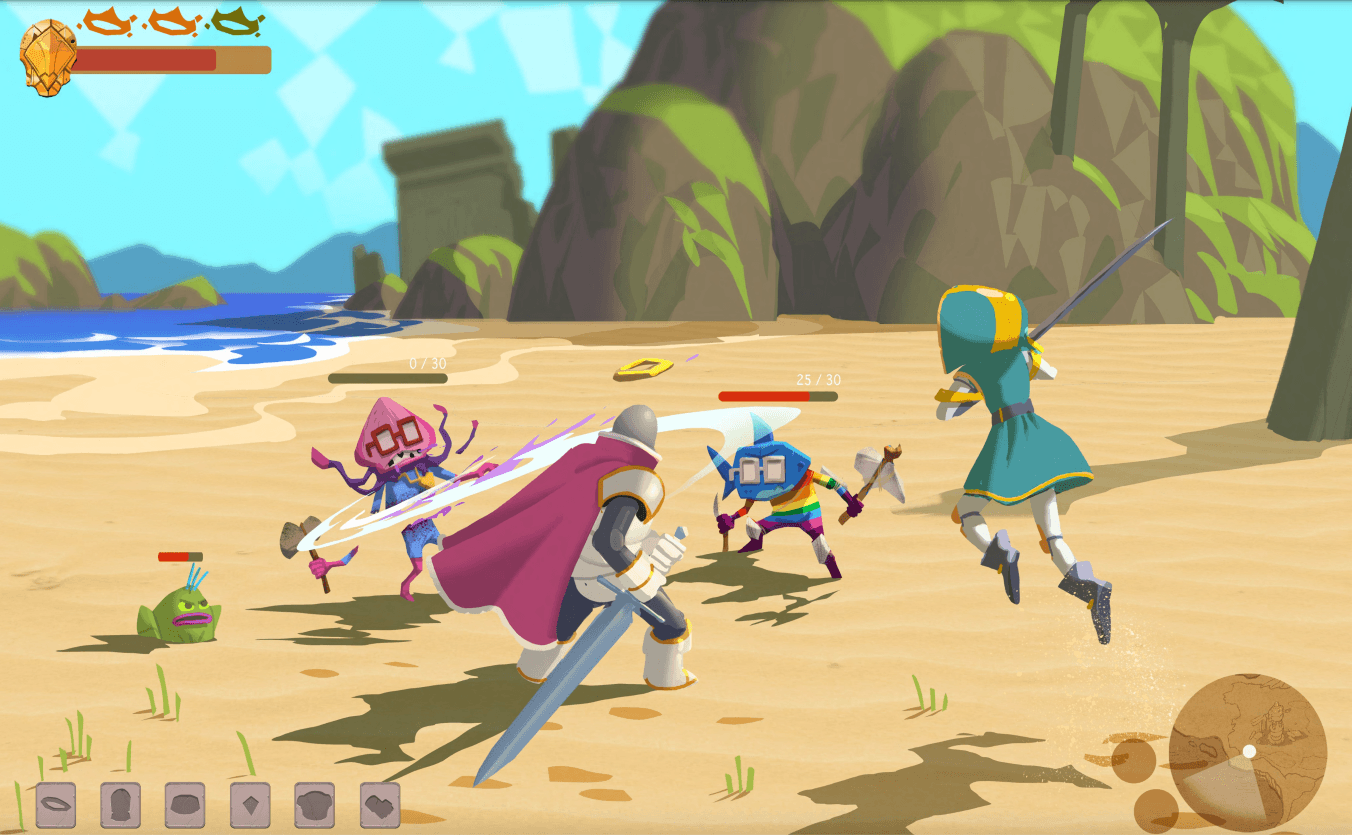 Making NFTs Accessible to the General Population
However, possibly the most interesting aspect of HyperLoot as a visualization layer is that it extends well beyond the 8,000 Loot bags that are often cost prohibitive for the general population. The team purposefully built HyperLoot so it could be extended to More Loot (MLoot), a version of Loot that is free + gas to mint, currently has a supply of 1M+ NFTs, and grows at a 10% rate of Ethereum's block rate. It can also (potentially) be extended Synthetic Loot, a bag inherently associated with any Ethereum wallet.
"Many projects are not supporting More Loot because it was already a challenge to support all the variations inside 8,000 Loot itself. Supporting MLoot is an even larger burden, so most of the projects only support Loot bags," says Tandavas. "We see that as a problem because not everyone can afford a Loot bag. In building HyperLoot, we wanted to support everyone, and we want people who have MLoot to experience this Lootverse as well."
The purpose for ensuring that HyperLoot is compatible with those two less expensive options becomes obvious when you realize how early we are to the web3 space. As NFTs become mainstream, a supply of 8,000 NFTs will not be enough to meet demand. Sure, it works now as this space is fairly niche, but as the general population onboards to this latest iteration of the web, it will be paramount to have an accessible option that will allow them to participate.
In an era where few PFP projects dare to go above the 10,000 threshold, it's hard to see the big picture that someday a project with 1M supply may barely cover consumer demand. Just as the "race to a million" users was the benchmark in the early days for web2/mobile applications, so too will it be table stakes for web3. And HyperLoot is building for that future.
One key driver for the HyperLoot team's vision is that they are from Thailand. While Loot was quickly inaccessible for the average Thai collector, More Loot proved to be quite popular there—it was a way for collectors in that country to have a stake in the Lootverse at a fraction of the cost.
"Especially in the Thai community, many cannot afford the Loot bag now because of the price," explains Herin. "Everyone here has at least one MLoot bag after learning about the Loot project from a Twitter thread by Tandavas."
The understanding that current costs will price out many from the general population puts the HyperLoot team a step ahead of most projects. They understand that success lies in getting as many people as possible to use their CC0 assets and to play the game.
Nifty's Nook
Getting to interview the HyperLoot team was such an amazing and eye-opening experience. First, it helped me realize how shortsighted many of us are right because we are so early. As more of the general public comes to this space, there is going to be a demand that will far exceed the current 10,000-piece drops. This is something that Dom acknowledged in releasing More Loot and that the HyperLoot team foresees in supporting that collection of 1M+ pieces.
The second major takeaway is that while the Blitverse, Lootverse, the Swamp and Mega City will certainly remain as universes for specific CC0 projects, there may also be the potential for a much larger CC0-verse. This is a place where team-ups and storylines can mix, interact and become intertwined, something akin to the Justice League or The Avengers. It's a thrilling possibility to consider: that projects in the public domain may expand well beyond their predefined space and become pieces in a much larger universe.
NiftyPins is a member of the Blitmap community—you can find him frequently hanging out in the Blitmap Discord or on Twitter at @niftypins.